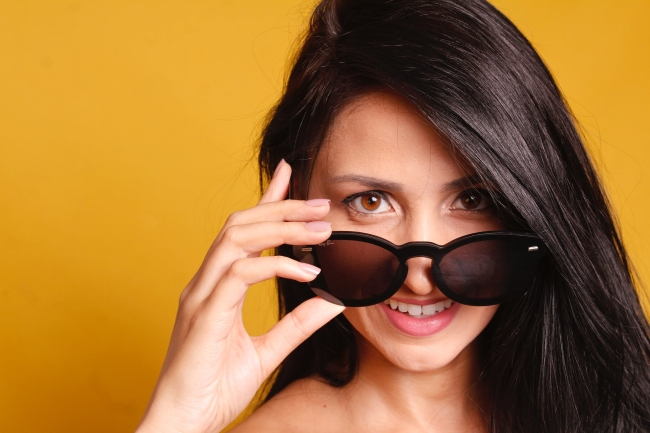 Benefits of buying designer sunglasses
The world is full of sunglasses, and it isn't difficult to pick up a cheap pair from the local store if you need some shade on a sunny day. But if you want to dress up your look and make a style statement, a bargain-bin pair of sunglasses just won't cut it. Instead, you need a pair of designer sunglasses! At Mountain Eye Care, we carry a large selection of designer sunglasses from some of the world's most popular brands. From Ray Ban, Michael Kors, and Fendi, to Guess and Marc Jacobs, we have the selection you are looking for! Let our team of vision specialists get you fitted with the right pair of sunglasses for your face shape. So, why should you consider buying designer sunglasses? We take a look at some of the reasons.
Click here to set up your appointment at Mountain Eye Care today!
Separate yourself from the crowd!
Cheap sunglasses are two a penny and nobody will look at you twice when wearing them. If you want to stand out, you really need to be rocking a pair of cool designer shades from a well-known brand such as Fendi, Ray Ban or Guess. And if you want to really stand out, wear a pair of oversized frames and pretend you are a celebrity trying to go incognito.
Consider different colour lenses
One of the advantages of buying designer sunglasses is that they come in different colours, so you can pick from a range of coloured lenses to suit your needs. For example, if you love skiing or cycling, a pair of yellow lenses will be a smart choice. Dark lenses are fine, but the choice is always better and with designer sunglasses, you always have a better choice.
Extra UV protection
The biggest problem with cheaper sunglasses is that they offer less protection from harmful UV light. Really cheap sunglasses do nothing to protect your eyes and you may as well not bother wearing any sunglasses at all. More expensive designer brands typically offer a UV protection rating of 400 or more, which is what you need to prevent serious eye damage.
Designer sunglasses have higher build quality
Cheap sunglasses invariably break within a few weeks. They are made of cheap materials and the first time you drop the frame, they will crack and the lenses will probably fall out. Designer sunglasses are made from durable materials and come with scratch resistant lenses. Obviously you still need to look after your sunglasses, but at least they won't snap the first time you put them on.
Finding quality designer sunglasses is easy when you choose Mountain Eye Care! We can outfit you with the right pair of sunglasses that protect you from UV rays, and fit your face shape!
Click here to find our contact information, schedule an appointment, or to speak with a representative.